Walk into any big box or general retail store today and you'll surely be greeted by the seasonal sights and even sounds of the holidays. And whether you're team "too soon" or team "bring on the festivities", one thing is for certain: holiday shopping is officially well underway—and consumers are on the hunt for the best deals earlier than ever before. In a "normal" economy, this would be good news, but this is anything but a normal economy and the Covid highs that retail experienced are now being stress tested by the first "quasi-normal" holiday shopping season since the height of the pandemic.
Looking back a couple of years ago, we started using (and overusing) "new norm" to describe any unchartered territory we were experiencing. Patterns like working fully remotely and a reliance (and perhaps devotion) to online shopping began to emerge and before we knew it, this all became the unofficial modus operandi. For marketers, dwindling ad dollars also became the norm prompting a massive shift in focus over from paid search and paid social to the affiliate channel as a safe haven creating an overdue (and well-deserved) boom. But even after two very unprecedented holiday seasons under our belts, somehow there are more wrenches being be thrown into the mix (hello, insane inflation!) serving as an impetus to yet another "unique" holiday season.
So, with inflation skyrocketing, fears of economic recessions popping up across the globe, ongoing supply chain issues, labor shortages, and consumer spending fears arising, what does all this mean for consumers and for the retailers waiting to fulfill all their gift-giving needs? Let's take a look at what's in store for holiday shopping season 2022 that is so far, shaping up to be anything but standard.
Let's start with some hard realities: Deloitte reports that 37% of U.S. households said they're in a worse financial situation than they were in 2021. While there's little to celebrate here, what's interesting is that despite this statistic, Deloitte also reports that 2022 holiday spending will match levels seen in 2021 with an average of $1455 being spent per shopper. However, they also report that while spending remains relatively unchanged, consumers aren't shopping in the same ways they once were. Inflation has caused just about everything to rise in price and this can produce a few effects. First, consumers will spend more on an item but be forced to buy less items overall to account for the difference. They may also decide to pay for more purchases this year with credit or even by tapping into savings.
And inflation doesn't just affect the price of consumer goods this holiday season. For marketers, persistent supply chain and shipping challenges, excessive inventory, markdowns, and perhaps most detrimental to marketers—marketing costs—are poised to hamstring profit potential. Yet the need for marketers to be at the ready inside the consumer's journey, no matter where or when that may be, puts great strain on marketers and their ad budgets. CPCs and CPMs are higher than they've ever been and investing more budget for the same degree of non-guaranteed result isn't a sustainable nor strategic plan. Instead, a recent Commerce Next survey of 100 retail and brand executives indicated that those surveyed ranked affiliate marketing as the number 2 acquisition channel anticipated to drive the best ROI and return on ad spend this holiday season, just behind paid search. But despite this acknowledgement, the Performance Marketing Association concludes that the channel is still only represents a mere 2.79% of digital ad spending in the U.S.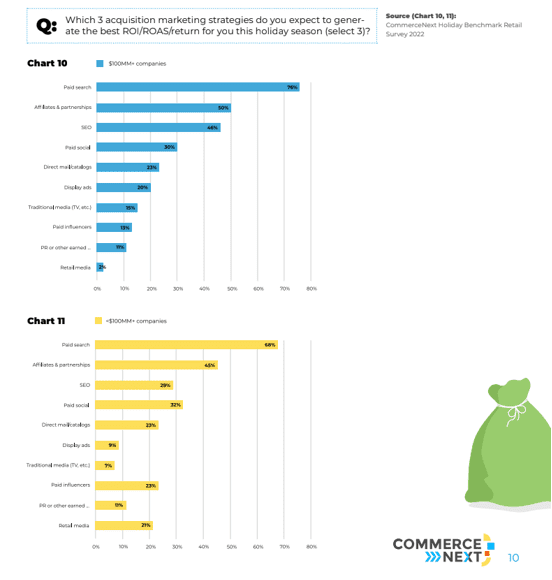 While the holidays and the macro-economic challenges that are attached to it may shine a light on the efficacy and efficiency of the affiliate channel. When you examine the research, the data and the fact that the affiliate channel consistently delivers a 12:1 ROAS, leveraging the affiliate channel for profitable growth could be a gift that continues to give throughout the new year and beyond.
Interested in learning even more trends, predictions, and insights from the 2021 and 2022 holiday seasons? Visit the Partnerize Holiday Hub page right here.