In the ever-evolving landscape of e-commerce, key shopping events like Singles' Day stand as pivotal moments, offering a glimpse into the trends within the broader partnership marketing sphere. And there was good news for Partnerize clients across the globe as they experienced an 8% YoY lift in revenue on November 11th, 2023.
There was particular room for celebration in the Asia-Pacific (APAC) region—where Singles' Day was born—as Partnerize APAC retail clients experienced an impressive 11% YoY increase in revenue, showcasing the platform's efficacy in driving growth during peak holiday shopping dates like Singles' Day. Diving deeper into the retail vertical within the APAC region unravels an even more compelling narrative: This exponential surge within the retail sector substantiates the pivotal role played by partnerships in driving revenue and amplifying brand visibility during peak shopping seasons. The double-digit growth highlights the robustness of Partnerize and its ability to provide brands and partners with everything they need to align with consumer behavior and preferences, ultimately yielding substantial returns for brands.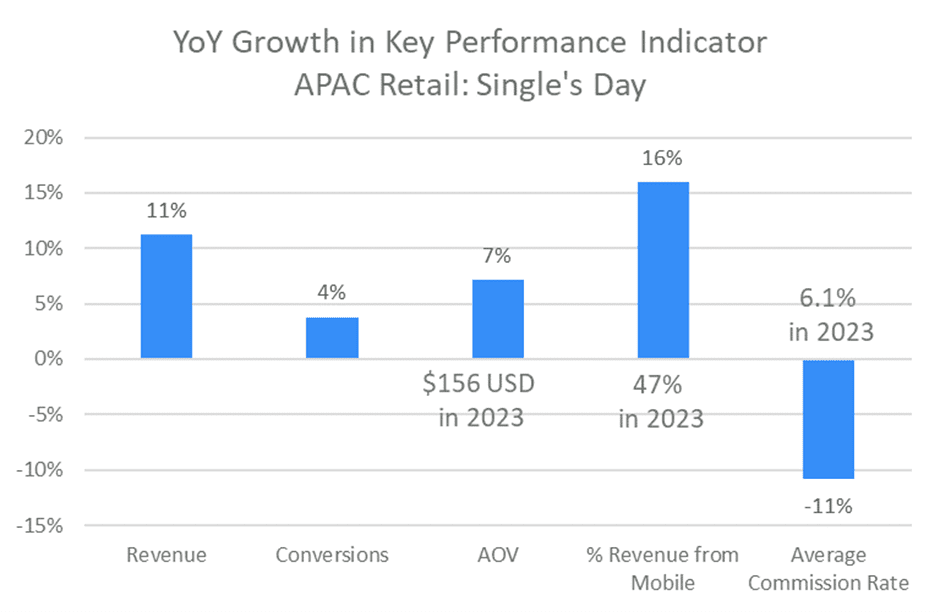 In AMR, where Veteran's Day is also celebrated on Nov 11,  YoY revenue growth was flat (-1%) likely due to the holiday falling on a weekend as well as the fact that inflation continues to affect markets albeit not as significantly as some experts previously predicted. There is also a case to be made that Singles' Day is simply not as popular in the West as it is in the East.
However, regardless of all this, this aggregated global growth signifies the resilience and adaptability of Partnerize brands and partners in capitalizing on the immense opportunities presented during this retail holiday extravaganza. The overall success across Partnerize's global clients underscores the importance of tailored strategies and targeted approaches in harnessing the full potential of affiliate marketing. Brands operating within this vertical have effectively fine-tuned their tactics, working with partners who possess an acute understanding of consumer demands and market dynamics. Collaborations like these have enabled brands to craft compelling campaigns and offers, resonating with shoppers and resulting in the remarkable 11% YoY revenue upsurge. Furthermore, this growth trajectory emphasizes the significance of Partnerize as a leading global partnership solution enabling revenue growth not only within the APAC region, but across all regions. The platform's robust features and tools empower brands and partners to foster meaningful partnerships, optimize performance, and capitalize on emerging opportunities in the ever-evolving e-commerce landscape.
For even more holiday shopping event trends and highlights, visit our Seasonal Resources Holiday shopping Hub right here.