Affiliate marketing is experiencing explosive growth. Chances are, your brand is already involved in performance marketing campaigns with affiliates, in which your brand pays a commission to referring companies that drive incremental traffic and sales. In fact, a recent survey of more than 1,200 senior marketers showed that 95% of leading retail, travel and personal finance brands had performance partner programs in place. Further, a variety of industry studies show that the affiliate channel is experiencing double digit growth.
Capitalizing on ALL of the Affiliate Growth Opportunities
So, if sales and trends are so strong, why focus additional attention on partnership? After all, many marketers have traditionally viewed affiliate as a set-and-forget channel. But growth opportunities in this arena are too big to ignore. Affiliate now offers more opportunity than ever before. Research shows that one in four brands are driving 30+% of their TOTAL revenue through partnerships. Those numbers don't arise from a set-and-forget approach. Commissions are a huge point of leverage for aligning partner interests to your own. If you want to achieve greater growth, it pays to work directly with your partners to setup diverse commission strategies that align to your specific goals. Access to valuable transaction and customer data is essential to utilizing these affiliate marketing strategies, but the process for collecting and utilizing that data is relatively straightforward if you know what you are doing.
---
---
Five Powerful Approaches to Growing Your Affiliate Program
This eGuide discusses five creative approaches to commissioning you can utilize to drive growth of your affiliate program. We'll review why each concept can be beneficial, explain how to implement, and discuss what data will be necessary to achieving success.
1. Implement Consumption Triggered Commissioning for Your Program
For affiliate marketers working in the retail space, a substantial return period is usually enough to allow you to approve or reject sales, based on whether the customer has returned at item. So, for example, a retailer might delay payment to a partner until a 21-day period for returns is completed. Provided that the item is not returned in that period, the partner receives their payment after three weeks. If the item is returned, however, then the partner receives no payment because the brands generates no incremental revenue.
Transaction-Based Affiliate Commissioning Can Pose Risks
But for some use cases, the period between a purchase and when the brand can recognize the revenue can be very large:
For travel brands, a customer could book a flight or hotel stay months in advance.
For finance brands, a customer could apply for a credit card yet not be approved, or be approved but never start using the card.
Such behaviors pose significant risk for affiliate marketers who pay out to their partners before an individual has been demonstrated to be a valuable new user. After all, that person might not turn out to be a customer at all. With consumption-based commissioning, you pay only upon confirmation that the purchaser has actually used the good or service. This ensures:
Decreased Risk: You no longer have to pay a CPA commission until you are certain that the revenue was earned/recognized
Better Understand Your Customer Journey: Tracking variables like booked vs. consumed travel, allows you to better understand your customer's purchase window and the buyer decisions versus buyer actions.
Potential Upsells: If a advertiser knows what a customer has purchased and how long until they consume that purchase, they can try to up-sell related or add-on items.
How to Implement Consumption-Based Commissioning In Your Affiliate Program
Fortunately, there is a commission strategy you can use to get around this: Consumption Triggered Commissioning. Consumption-triggered commissioning means that you determine payouts on the product or service being 'consumed' as opposed to purchased'. The following illustration shows how consumption-based commissioning might work in three different industries. 
Data Required to Implement Consumption-Based Commissioning
To make consumption-based commissioning work, the brand needs to pass its affiliate marketing management tool or network a confirmation that the item purchase has actually been used — for example, that a flight or hotel stay has been used. Then the payment is made. Passing this data via API can be very straightforward if both your key partners and your network or tech management solution are prepared to receive and action the data.
2. Leverage Click and Collect Affiliate Commissions 
Click and collect sales — in which the user transacts online and picks up in store — have seen rapid growth over the past few years.
Better Margins and Greater Convenience Make Click and Collect a Win-Win
For brick and click retailers, in-store pickup is a great benefit to offer in order to compete more effectively against online only businesses. These "brick and clicks" can also avoid operational costs such as postage and returns, resulting in increased margin and profitability. Additionally, retailers can also upsell a customer when they come in-store to purchase; according to a Click and Collect study from Bell and Howell, 49% of shoppers say they purchase additional items in-store when click and collecting. There are affiliate marketing benefits to the consumer as well. Click and collect enables customers to forego dreaded delivery charges, can often get merchandise the same day (or even hour), and avoid missing delivery windows if they're not available to be at home.
How to Implement Click and Collect Affiliate Marketing Commissions
To implement a click-and-collect commission structure, you simply set up specific incentives for partners when a customer chooses a click-and-collect delivery option. By offering a significant incentive increment, you also further encourage click and collect because your partners will have the opportunity to pass on more of the additional revenue to the end user. The following diagram illustrates the concept using a 6% standard commission rate and an 8% rate for click and collect.
Data Needs to Implement Click and Collect Commissioning
To ensure you can reward partners on this specific variable, you'd need to pass back the data parameter on whether the shopper chose delivery or click-and-collect. You could then set up your commission rates to reflect each structure accordingly. As we all know, data passes like this always need to conform to data laws and regulations and your region(s). Care must be taken not to pass personally identifiable information. Speak with your legal team before initiating data sharing. Your existing affiliate management solution should make capturing and paying on this parameter simple and easy to implement. If you are currently using a solution that does not allow for the passing of such data parameters, it probably makes sense to begin the search for an alternative. These data passes are essential for implementing data-driven marketing in the channel.
3. Create Regional Event-Specific Affiliate Programs
We all know that there are international events, such as Christmas and Singles Day, in which we can drive sales in a broad range of markets.
Finding Great National and Regional Sales Opportunities
Yet many brands miss the opportunity to dive in deeper and look at regional events and holidays that may provide great sales opportunities in specific markets. Examples include state-only or country-specific public holidays, or local physical events such as a festival.
The Power of Region-Specific Events
By understanding the events that could be relevant to your potential customers, you can craft regional commissioning programs to capture extra sales in these powerful promotional periods. Geographically specific events often capture strong attention with target audiences. That attention can help you identify great prospects at times when they are uniquely open to your products and services. They can also offer opportunities to move distressed inventory like unsold hotel rooms or clearance items, and can help grow your brand exposure. upon confirmation that the purchaser has actually used the good or service.
How to Create Location-Specific Commissioning Affiliate Programs
The "hows" of this affiliate strategy depend on the type and size of regional opportunity that you choose. Here are a couple of examples of regional opportunities and what is necessary to leverage them for partner marketing:
Region-Specific Sporting Event: The Australian State of Origin is a great example here. In Australia, this event represents one of the most significant sporting occasions of the year. In other parts of the world, it means little. By creating State of Origin specific creative, and selecting a set of products particularly relevant to the event, a brand can capitalize on its appeal where it is significant to the target audience.
Region-Specific Holidays: Some holidays, like Diwali, are of paramount importance in some places and less culturally significant in others. Again, offers and creative can enable a brand to capitalize on these events, as can specifically timed offers. The US "Black Friday" phenomenon is also an excellent example here.
4. Implement Location Specific Affiliate Programs or Offers
Many brands offer different deals and pricing in different geographies, on an ongoing basis. These pricing decisions often take into consideration a variety of specifics that vary by market, including:
Prevailing category pricing
Average target incomes in a geography
Other geographic variables, including living situation and household size
Cultural and behavioral norms
If you've ever travelled overseas, for example, you know that in many industrial countries, apparel prices are far higher than they are in the US. This can be because of taxes or simply because US consumers have been conditioned to respond only to deep discounts.
For whatever the reason, brands often wish to restrict offers to specific regions, and exclude other regions.
How to Implement A Region-Specific Commission Program
There are a variety of ways that you can implement programs in some regions but not in others. These represent technical set-ups that determine whether payments should be made based on purchase characteristics. There are a couple of examples.
First, you can create country-specific affiliate programs that redirect to specific regional sites. Thus, the offers are tied to the converting websites. Deals vary based on whether an item is purchased at .ca (Canada), .co.uk (UK), .com.au (Australia), etc.
Second, you can set up a data exchange or pass of appropriate, not-personally-identifiable information and provide a specific region indicator to your affiliate marketing network or tech platform, so that the special commission is only paid on sales that meet pre-set criteria. Again, the data you pass must conform to the laws and regulations in your region.
The chart below provides a couple of examples of how this might work, using the example of a Indonesia-only special commission rate set on retail purchases, which is higher than the rate for the same period in Singapore. 
Data Required to Implement Region-Based Affiliate Commissioning
Data needs for this strategy vary depending on how you've set up your programs. Many brands have country-specific websites, and can simply offer the special commission only on purchases made on the appropriate regional site.
Other brands may drive traffic from multiple regions to one site, and then pass back country to the partner management network or solution provider. Based on the information in the passback, and appropriate commission rate is determined and the correct payment authorized. As mentioned before, it is critical that you are cognizant of the laws in your region about data sharing and usage, so that's an important consideration here.
5. Implement Device-Specific Commissioning
Many brands recognize that mobile will account for the vast majority of sales before long. In regions like the US where there is a strong PC user base, mobile still accounts for upwards of 40% of total commerce. In other parts of the world, like Southeast Asia, mobile accounts for virtually all sales.
The Battle for Mobile Affiliate Share
Brands are battling for share of mobile-based transactions, with many believing that the brands that drive fastest adoption in mobile will come to dominate the channel over the long haul.
Further, many brands would like to grow the regular user bases of their apps. Research shows that app users tend to be more loyal and valuable for brands. According to a recent Criteo study, people view 4.2x more products per usage session in an app versus the mobile web, and convert at a 3X higher rate than on mobile web.
Clearly there is an opportunity to work with partners to drive more mobile conversions in general and app downloads in particular. If it's important for your business to push customers to mobile or app, you can incentivize partners with an increased commission structure for customers who use that path to purchase.
How to Implement A Device-Specific Commissioning Program
If you're taking a mobile-first approach to partnerships, there are a few things you need to consider to ensure you provide a seamless experience for both partners and customers. Perhaps the most valuable — and simple — is to offer different commission rates for mobile versus PC or tablet conversions. You can also create bespoke programs that reward partners for driving app downloads.
Additionally, you can field a separate program that rewards partners for driving app downloads. With the right solutions provider, you can pass back the conversion venue type to ensure that partners receive different commission rates by device type or for in-app purchases. The key, however, is to ensure that you can attribute conversions that occur in multiple environments, including PC web, mobile web, and mobile app. Talk to your provider about how they manage cross-device and in-app click & conversion data.
6. Diversify Your Affiliate Partners
Ensuring you have a rich, diversified mix of publisher partners gives your brand broad audience reach and relieves overreliance on just a few partners, minimizing unnecessary risk for your program. Does your affiliate strategy rely on having 50% or more of its total revenue being driven from just two to three affiliate publisher? Answering "yes" to this question confirms an overreliance on those revenue-generators to power your partnership or affiliate success and creates unnecessary risk for your program (think: changes to your promotional affiliate strategy that impact discount-oriented partners, competitive commission rates from like-brands or shifts in the status of your partner relationship, just to name a few).
As we noted earlier, to be an effective marketer, you must be present where your customer is—regardless of your affiliate strategy—whether that means it's the first time they're seeing your message or they're all ready to make the purchase. Embracing a diversified affiliate program enables this omnipresence but to convert your target audience, you need to vary the partner types you work with to appear across their entire path to purchase. A critical component to uncovering the right partner types that will help you extend your audience reach involves recruiting and onboarding new publisher partners that are right for your program.
However, before starting your recruitment and onboarding efforts, it's important to establish an effective strategy to execute based on your company goals and objectives. You want to ensure the partners you identify and subsequently recruit, can align to your overarching program goals. Considerations should center around the overall goal for your partnership program. What is the goal? Is it to obtain new customers, increase brand awareness or drive top-line revenue?
Set Strategic Affiliate Recruitment Goals
Target partner types that align to your specific goals and establish a timeline for onboarding them to effectively diversify not only your partner types but also your revenue drivers.
When setting your recruitment goals, keep them realistic and manageable. For example, if you have content partner representation in your program already, adding three new content partners per month for three months is a good starting point. If you don't currently have content partners in your program, your goal should be more aggressive by targeting five to six content partners per month. But be sure you also consider the audience size or reach of the publisher you are targeting. The larger the reach, the bigger the potential. It is not to say that a potential partner with a smaller audience size isn't valuable—they are—but reach will ultimately dictate the incrementality gained from each new partner. Also, be realistic about what the partner type will drive performance-wise. Content-only partners may take time to achieve a fully ramped and revenue-generating state. But if your goal is awareness, content may be a good starting point.
After identifying your program diversification goals, seek partnerships that drive to those KPIs. Discover, Partnerize's recruitment module, lets you automate the discovery and activation of right-fit partnerships, a cumbersome task in legacy affiliate networks. The module lets you easily find, recruit and activate partners not only from within the platform, but from beyond, for limitless recruitment capabilities that don't inhibit opportunity. The module uses data-driven partner recommendations as well as extensive filtering functionality that drills into social footprint, demographic, average monthly site visits and more—transparency that helps you to easily find and convert your target audience at scale.
Define Your Target Affiliate
The next factor to consider is who you should target. Remember, the objective is to grow affiliate revenue while reducing your dependence on 2-3 affiliate publishers. For our purposes here, let's assume that the goals are to drive new-to-file (NTF) customers, increase brand awareness and drive top-line revenue. So, if your organization is a women's clothing brand, for example, start your search in Discover by using keywords such as 'women's clothing', 'women's shoes', etc. Remember, you can easily toggle between partners that are already joined to the platform or explore limitless prospects in the broader digital ecosystem that can easily be recruited into both the platform and the campaign in Discover.
Affiliate Partner Types
Industry giants continue to gain traction as ecommerce coupon and cash back models grow in popularity. These publisher partners convert significant traffic not only because of their organic growth, but also because consumers typically leave their carts last minute to seek discounts or trigger cash back dropping a new cookie and crediting that publisher partner for the sale. The result? A revenue concentration in the top tier of your affiliate program while the lion's share of your result drivers remains under-rewarded.
Ensuring you have a rich, diversified mix of publisher partners relieves overreliance on just a few and minimizes unnecessary risk for your program.
Here are the types of affiliate partners to consider working with.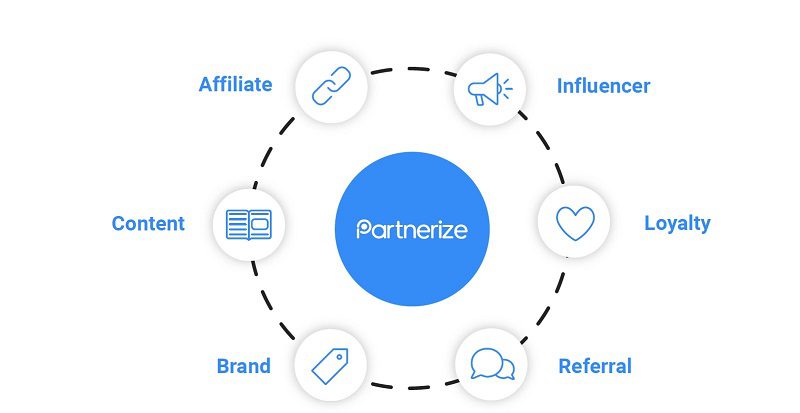 Affiliate:
The affiliate category accounts for the lion's share of partnership revenue.
Affiliate categories are broken down into the following partner types: Cashback, Coupon & Deals, Comparison, Metasearch and Sub-Network.
Cashback– Often with large customer bases, cashback partners are focused on driving rewards for their customers in the form of a percentage of their purchase being returned to them as "cash back".
Coupon & Deals– What many describe as the birthchild of affiliate, this partner type targets savvy shoppers, with coupon and deal sites focused on discounts and incentives for customers, usually using voucher codes.
Comparison– Comparison partners are there to help customers make smarter shopping choices. They will usually provide customers with a variety of options when they're searching for products or services.
Metasearch– Often operating in the travel sector, metasearch partners allow customers to search multiple options at once e.g., flights. Some then refer you onto another site for purchase.
Sub-Networks– There are multiple sub-networks who allow you to work with a larger number of partners, usually long-tail affiliates. Many brands are transforming to track these networks as a partner.
Content:
Content partners can range from large media-style sites to individual bloggers but focus on providing quality content to their audience, usually around more specific topics of interest.
Influencer:
An influencer is an individual who generates content typically on social media with a large fan base or audience of followers and is compensated for brand or product promotion to these audiences. Partnerships with influencers are extremely popular. As marketers align their affiliate marketing strategies, influencers can partner with you to promote your brand, or offer a direct incentive or discount to entice their followers to become a customer.
Brand:
These partnerships allow two brands to come together to form a two-way partnership where the outcomes are mutually agreed on by both parties. Brand partnerships are often created to achieve specific goals such as:
Driving new customer acquisition
Increasing sales across specific products or categories
Improving customer loyalty
Creating brand synergy
Loyalty:
A popular choice, loyalty partners are large publisher partners and communities whose primary business is partnership. B2B partnerships are increasingly popular for companies trying to drive sales with small and medium-sized businesses. Loyalty partners operate their own customer loyalty rewards programs, primarily rewarding their customers with points.
Referral:
Referral partners enable brands to turn their customers into powerful sales forces by incenting transactions in exchange for discounts, points, products and more. Note: Not all partner types are created equal, and you shouldn't expect cookie-cutter results as you optimize. Take for example the path to ramp below.
Conclusion
You can't "set-and-forget" partner marketing programs and commissions and expect to drive the best results from affiliate marketing strategy. For affiliate managers to drive maximum incremental growth, they need to invest in more creative affiliate marketing strategies — ones that bring together the best business opportunities with your specific KPIs.
These six affiliate marketing strategies are just a small sample of the approaches you can take to drive more sales from affiliate. Their relevance to your business will depend on the unique circumstances of your business. If you'd like a more personal assessment of the commissioning and other affiliate marketing strategies that can unlock additional growth for your business, Partnerize would be delighted to help. Contact us for more information.
Want a copy of this document in pdf form? Download it here. 
Related Posts: